Nothing could be easier than sorting your waste!
The answer to a single question tells you whether waste can be sorted: is it consumer packaging? If the answer is Yes, whatever it is made of, it can be recycled and must therefore be placed in your sorting container or a yellow bin. If the answer is No, head for the household waste bin or the grey bin.
If you are in doubt, or for more specific kinds of waste, you can consult our Waste Typology:

Correct sorting of consumer packaging: yellow bins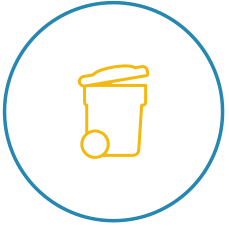 Yellow bins are reserved for selective sorting of your consumer packaging. They are placed at your disposal to receive:
• food cartons & boxes: cereal and pizza boxes, milk and soup cartons…;
• all metallic food packaging, in steel or aluminium, even the smallest : cans, tins, aerosols, aluminium punnets, syrup bottles, small items made of aluminium (beer caps, Nespresso coffee capsules)…;
• all plastic packaging: bottles for mineral water, washing-up liquid or shower gels, yoghurt pots…
• all kinds of paper: newspapers, magazines, reviews, envelopes…
Yellow bins must only contain recyclable waste, emptied, unwashed, and thrown in loose (with no bag, and not stacked together). Yellow bins containing other waste or black bags cannot be processed by the sorting centre and are therefore collected with household waste.
► To go one step further:
Plastic items such as toys and tableware are not recycled, and bulky boxes (for moving house, furniture kits, home appliances) must be dropped off at a tip or the Mobile Sorting Centre.
Correct sorting of glass packaging: green bins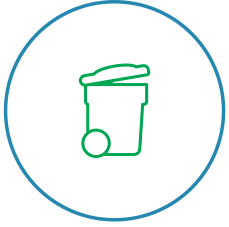 Green bins are intended to receive glass containers: bottles, jars, pots…
► To go one step further:
Glass tableware (Pyrex), porcelain, glazing, crystal, but also mirrors, all have different chemical compositions which do not allow them to be included in the recycling of glass packaging. They must therefore be taken to a tip or the Mobile Sorting Centre.
Find a Cliiink deposit bin near you!
Cliiink is an initiative that rewards your sorting of glass packaging with discount vouchers. The concept is that, each time you deposit an item in these specially equipped glass bins, you add points to your account that you can exchange for discount vouchers at partner shops, or give away as donations to charity organisations. You can register by means of a free app or on the website, with the Cliiink card available from the town-hall or town-hall annex. Learn more >>
Correct sorting of household waste: grey bins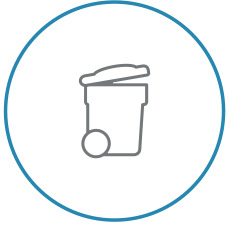 Grey bins await your household waste.
For example: organic waste (if you do not have a composter), personal care and hygiene accessories (nappies, handkerchiefs, surgical masks, disposable razors, sponges…), broken crockery and items made of plastic.
For other everyday waste, green waste, healthcare and organic waste… go to