Drop-off points for individuals


List of waste items accepted​
Ordinary waste: sofas, mattresses, green waste, scrap metal, glass, cardboard boxes (emptied and folded), rugs, carpets, wood, electrical appliances, textiles and shoes, paper, magazines, newspapers, furniture, waste electric and electronic equipment, clean rubble, dirty rubble, plate glass, household packaging.
Dangerous household waste: neons, lightbulbs, paint, solvants, used oil, cooking oils, small batteries, dangerous products, soiled drums, batteries, aerosols, hydrocarbons, petrol, phytosanitary products (fertilizers, weed-killers), ink cartridges, X-rays.
Toxic waste: flammable products, toxic products, harmful products, corrosive products, products dangerous for the environment, oxidizing agents.

List of waste refused
• Putrescible waste or other agri-food waste from industry or distribution
• Chemical products for industrial or artisanal use
• Chemical products for agricultural, horticultural, wine industry or nursery use
• Farm packaging
• Gas cylinders from professionals
• Extinguishers from professionals
• Tyres from professionals
• Incandescent waste (ashes, charcoal…)
This list is not exhaustive. The agent at the tip is authorized to refuse waste that may present a risk or danger.
How to obtain your badge?
You can register directly on your first visit to the tip. You must present the following documents:
• The registration form available from the tip, on smed06.fr or univalom.fr
• Your most recent "taxe d'habitation" (housing tax)
• "Taxe foncière" (property tax)
• Lease or notarized deed
• ID card
Download the guide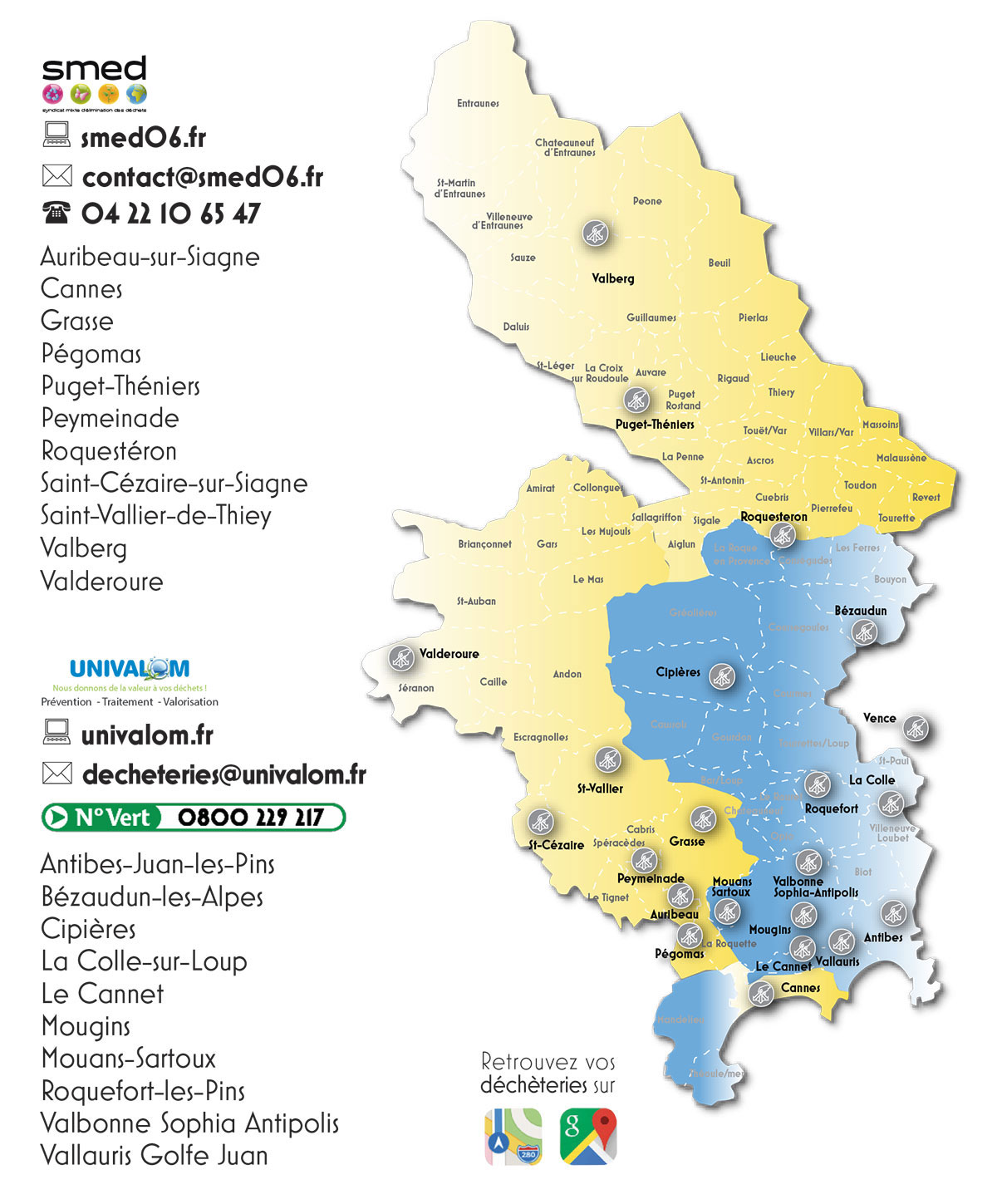 ⚠ During the transfer and work on the site, the tip in Antibes will be closed from 1 November 2021.
Access procedures
Private individuals dropping off their waste must be residents of the CAP AZUR metropolitan territory. To gain access to the tips, presentation of the SMED or UNIVALOM badge is obligatory on each visit. This badge gives access to the 21 drop-off points in the network.
PLEASE NOTE: The badge is personal and non-transferable.
Methods of payment
Access to the tips and the deposit of waste items are free of charge for up to 1.5 tons per household per year throughout the entire CAP AZUR network, except for dangerous household waste, limited to 60 kilos per household per year. If an individual exceeds the annual quota, he must pay the excess fee in order to ensure his on-going access to the tips (see list of fees on smed06.fr/tarifs or univalom.fr, or at the drop-off point).
Free tonnage is automatically re-set at the start of the calendar year. Non-used tonnages are not accumulated.
For private individuals living outside the CAP AZUR metroplitan area, there is a fee for access.
No payments are accepted at drop-off points.
Are the items you want to get rid of in good condition? You can sell them or give them away on the Cannes Lérins on-line donation and sales platform:
Le Troc de Lérins
Are the items you want to get rid of recyclable? Consult the days when the Mobile Sorting Centre is open and the list of waste items accepted:
"Relais Tri Mobile"