Collection of bulky items
Collection of bulky items

These bulky items really clutter our streets. They encroach on public space and cannot be recycled if collected indiscriminately. However, not everyone can take these heavy, bulky waste items to the tip. Here is how to help us pick them up correctly and reduce this visual and sanitary pollution of our pavements.
What do I do with bulky waste?
If your bulky items (furniture, household appliances etc.) are in good condition, one solution is to donate them to an association or sell them at Troc de Lérins, the buyers'/sellers'/donors' platform for Cannes Lérins neighbours.
If their condition does not allow this, you can drop off bulky items at the tip nearest to your home, or benefit free-of-charge from the proximity Mobile Sorting Centre service for the smallest items.
If you cannot move around or if the items are too heavy or bulky, you can call your commune's pick-up service for bulky items. They will be removed by appointment.

Contacts for bulky items services
Cannes : Allo Mairie + +0 810 021 022

Mandelieu-La-Napoule :Door-to-door collection by appointment the 1st, 3rd and 5th Monday of each month. Prior registration obligatory on 0 800 715 005 (N° Vert), from Monday to Friday, from 9 a.m. to 12 noon and from 2 to 5 p.m. Waste items must be deposited the night before, from 7 p.m., as tidily as possible, at the edge of the road. Depositing items on days when there is no collection service will make you liable to a fine. Maximum deposit volume is 2 cubic metres.

Mougins : Allo Mairie Mougins 04 92 92 58 58

Théoule-sur-Mer : Town-hall mairie 04 92 97 47 77

Le Cannet : Collection service 04 92 18 48 78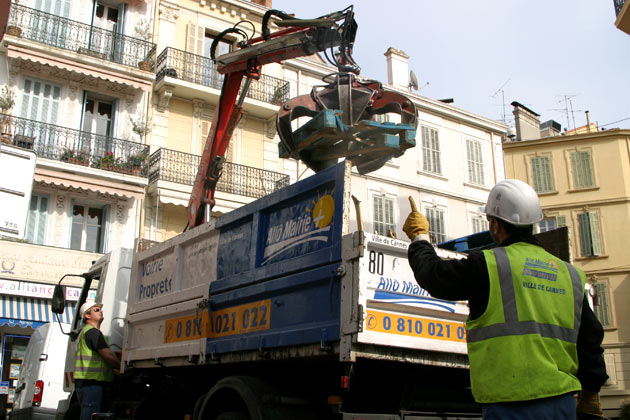 Check the Mobile Sorting Centre's service days and the list of waste items accepted.
Mobile Sorting Centre